Submitting Your CatCard Student ID Photo
The CatCard is the official identification card for East Georgia State College and all locations. All students, faculty, and staff are required to carry their CatCard. Please read all of the following instructions before submitting your photo. If a suitable photo is successfully submitted in a timely manner, your CatCard will be processed for production!
What Will I Use My CatCard For?
YourCatCard is much more than your ID. It will provide you with easy access to campus housing, libraries, the EGSC-Statesboro shuttle, Bobcat Bucks, meal plans, printing and much more!
For EGSC-Augusta students, photo submissions will be used to create their JagCard for Augusta University. EGSC-Statesboro students will obtain their Eagle ID thorugh Georgia Southern at the Russell Union.
Bobcat Bucks, a prepaid, stored-value account, is part of your CatCard and is the convenient, cashless way to pay on campus. Use it for whatever you need, whenever you need it! You can make online deposits, check your meal plan and debit balances, and even check your transaction history online!
The CatCard is NOT a credit card! You can only spend whatever funds you have deposited on the card, a bit like your bank debit card. Once the funds are spent you will need to deposit more money to continue making purchases. More information can be found on the Bobcat Bucks FAQ page.
Picking the Right Photo
Your photo is a vital part of your Photo Submission process. We want the best YOU displayed on your CatCard, so stay within the image guidelines listed below. If you have any questions or concerns regarding your photo, please contact the office during normal business hours.
All photo submissions status notifications will be delivered to your myEGSC catmail account (Approvals, Rejections, etc.). For the record, CatCard follows U.S. Passport image guidelines as outlined by the United States Department of State. You can visit their website for further information.
Any image submitted to EGSC will be used for identification purposes only. EGSC reserves the right to refuse any image that does not adhere to the standards outlined below.
All submitted images must be in a photo file format
The image must be in color
Taken within the last 6 months
There must be a space between the top of your head and the top of the photo
Your entire head and shoulders must be visible
The image MUST:
Be in color
Clearly identify YOU from head to shoulders
Have no noticeable reflections or glares, especially from glasses
Have a solid background
Have normal contrast and lighting
No graduation caps, gowns or costumes are allowed
Not include shadows over your face.
Not be copyrighted or watermarked
You MUST:
Be the only person in your photo
Face forward, looking directly into the camera (no side profiles or "looking up/down" photos)
Have no red eye or squinted eyes
Have nothing touching your face such as hands, props or other distractions
Not make any gestures or inappropriate facial expressions
Not wear a hat or sunglasses
Not wear jewelry or garments that obstruct the view of your face
Not use social media filters, text, emojis, stickers, etc
Not include headphones, earbuds, or wireless hands-free devices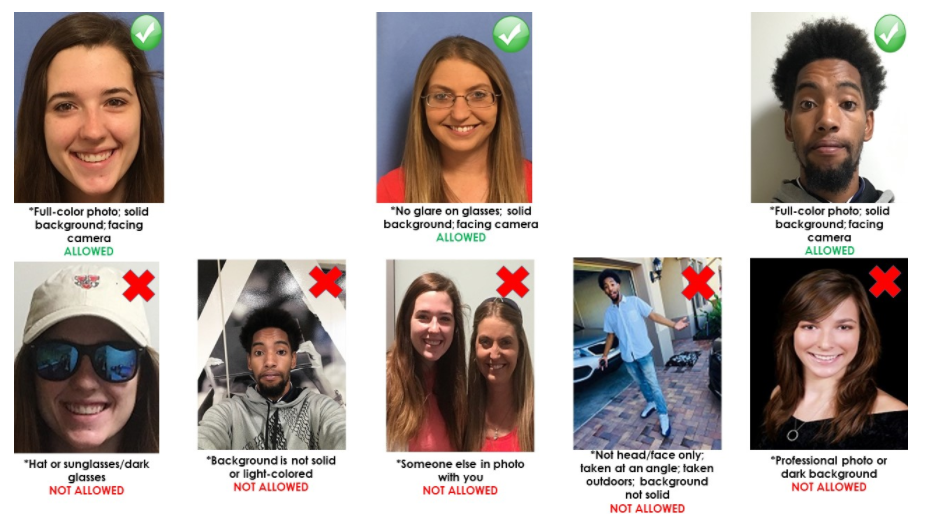 Ready to submit your photo?
First, make sure you have activated your myEGSC account and obtain your login credentials, then log into the Bobcat Bucks secure site to upload your ID photo. As you follow the photo instructions listed above to load your photo, you will receive an email notification of denial or approval after submission. Once approved, you can pick up the Bobcat ID at their campus location by the first day of class. Online only students are not required to obtain an ID, however it is strongly recommended.